Hello, and thank you for visiting FUN TIME JUMPERS website. We rent Jumpers, Fun Jumps, in Albuquerque New Mexico, Rio Rancho NM, and Surrounding Areas. Our Jumpers are a Huge hit at KIDS BIRTHDAY PARTIES OR ANY PARTY! WE ARE INSURED BY COSSIO INSURANCE AGENCY, AND CERTIFIED BY THE STATE OF NEW MEXICO!


ON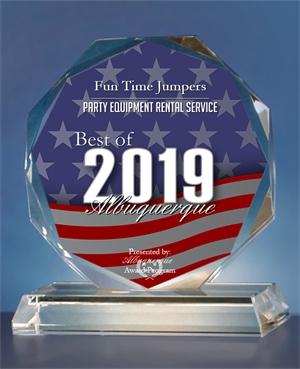 Click On Your Party Date, Click On a Jumper, then Check Out,
Its That Easy, Order Below...
(Prices are for 4 hours, $20 more for All Day, $20 more for All Night)
We SAFELY SETUP and SANITIZE our Bounce House Jumpers right at your party site, so you know your Inflatable Jump is clean.
We take pride in doing good business by keeping our Customers Satisfied and coming back to us by UPGRADING OUR INVENTORY! ( Themed Bounce House Jumpers, Themed Combo Slide Jumpers, Cotton Candy Machine, Pinatas with Candy, Tables and Chairs, Concession, Snow-Cone Machine with Flavoring, and Costumes).
We also offer RETURN CU$TOMER DI$COUNT$ and WEEKDAY $PECIAL$!.
And thats why We are #1 for Bounce House Jumper Party Rentals in Albuquerque New Mexico, and surrounding areas.
If you have questions please feel free to call us at 505-450-6664 or email:FunTime.JumpersNM@Gmail.com .
><> Jesus Loves You <><

Copyright 2010, Fun Time Jumpers (tm) 505-450-6664